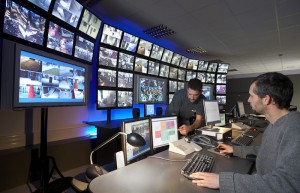 We provide Surveillance solutions, Our solution is always built based on the customer needs. While we offer state-of-the-art IP based solution for completely new projects, we have also track record on series of successful renovation projects where large part of the existing infrastructure, e.g. analogue cameras, have been re-used.
Video Surveillance is an integral part of modern security systems, found in premises ranging from airports to shopping malls, corporate buildings to train stations. It proves a great deterrent to malicious behavior and an excellent tool in solving the mystery of past misdemeanors.
| Analog Camera | IP Camera |
| --- | --- |
| | |
Dome Cameras
PTZ Cameras
 Bullet Cameras
What you need to know about cameras
Indoor/Outdoor
Will the camera be placed indoors or outdoors? Outdoor cameras are protected from dust and moisture. Indoor cameras can be temperature sensitive and made out of a less expensive plastic housing
Night Vision
Is night vision a factor? Most cameras come with LED eliminators that brighten the image the same way a broad flashlight would except the light is infrared and invisible to the human eye. The LED light is clearly seen in the recorder and on the monitor.
In rare cases the environment the camera is looking at has highly reflective material that can bounce back to the camera blinding the image. In this case you may need a "Low Light" camera with an upgraded processor chip made to detect and enhance the very little ambient low light in an enviroment and give a seemingly lit and clear image. The downside to "Low Light" cameras is the need for at least a small amout of light (star light). Additionally, the processor turns on when darkness is detected, so the image is usually in black and white.
Resolution
Determining what resolution is required will help determine what kind of a camera is needed.
Analog cameras can get as high as 700TVL (WD1 is about 1/4 of 2 Megapixel)
IP cameras can have as little as CIF (1/4 of WD1) all the way up to 5 Megapixels
SDI and CDI cameras currently go from 1.3 Megapixels to 3 Megapixels
Analog/IP/SDI
Whats the difference between IP, SDI and CDI cameras?
IP (Internet Protocol) cameras process the HD image at the camera and send it to your network or recorder via cat5e or cat6 cable using data packets. PROS: cat5e cable is cheep. CONS: All IP cameras have an amount of latency (data relay delay), micro seconds to multiple seconds. IP cameras may experience pixel glimmer with EMF disruption at the cable or the camera.
SDI cameras carry HD video feed over RG59 or RG6 cable with great clarity to a recorder. PROS: no pixel glimmer. Little to no latency (data relay delay) CONS: RG59 and RG6 can be more expensive than cat5e. SDI cameras can run hot so camera size is genraly larger than IP cameras to make up for over heating. Restricted to 250 FT camera cable runs without repeaters.
CDI cameras – the same as SDI cameras but can be read up to 400 FT.
SDI and CDI cameras are ideal for retrofitting existing surveillance systems that have RG59 75-Ohm or RG6 cable installed.